Figs are sweet and ripe, ice is melting before your eyes, the chirping of crickets is relentless, and the heat wave flooding your destination is merciless. We know your body is just begging for the cold sea, a cold drink, and a refreshing meal in the campsite! However, this may prove difficult in such weather.
Luckily, we have a few ideas to help you out! Here are ten tips you can use to ensure that your meals stay fresh, preserved, and cool even during the hottest days!
1. Place your food on ice
Place your plates and serving bowls on a tray of ice. You can also put ice in a larger bowl and place a smaller serving bowl with food in it. You can also place the plates in a clean plastic or metal tub, and place the food on top. This will keep your meals really cold and won't take up too much extra space on your table. Elsa from Frozen would be delighted!
2. Cool the plates and bowls in advance – preferably the cooler as well
If you can spare some extra space in your freezer or fridge when you start cooking, put the plates and serving bowls in there to cool while you prepare your meal. Once your tasty fruit salad or vegetable dip is ready, place them on your cold plates and bowls. You can use the same trick for glasses as well!
If you have enough space, you can also put your cooler in the fridge the night before. On the day of the trip, the ice you place in it will only need to maintain the temperature inside the cooler and not lower it. You will feel "born ready"!
3. Keep your food and drinks in the shade
It may seem obvious, but you need to protect your food and drinks from the sun, even if that means placing another table under olive and pine branches or a parasol. Make sure your ice cream dessert doesn't turn into soup!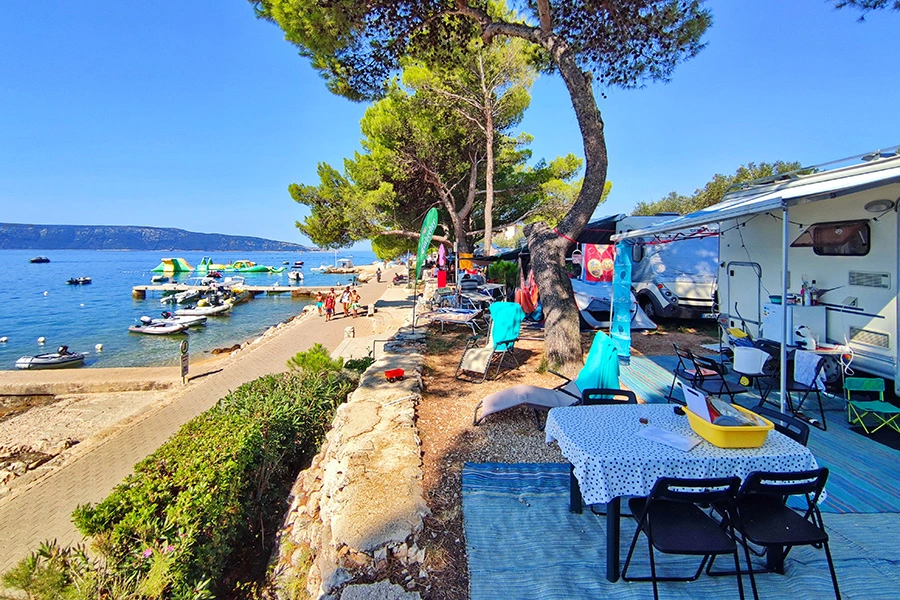 Keep food and drinks in the shade, Kovačine camp, Cres
4. Don't serve everything at once
Instead of putting all the food on the table at once, bring out your dishes in the same order in which they will be eaten. Start with, for example, chips and dip, and bring out your salad and main course later. This will ensure that everything is still fresh once your guests are ready for their next course.
5. Serve the food in smaller bowls
Instead of bringing out one large bowl of potato salad, divide it in two or three smaller bowls. Bring out one of them to enjoy and let the others cool until you need them. This makes even more sense if you're feeding a large group of people, hosting friends from another pitch, or if you have friends showing up throughout the day.
6. Keep your food covered
Covering your food with a clean dishtowel or aluminium foil will not only prevent bugs from getting to it, but it will also protect it from the sunlight. Take a thermometer which can be used to measure both body temperature and cooler temperature so you will be able to check whether the temperature is below 4 degrees Celsius, meaning that the food is safe for consumption.
Plots in the shade, Kovačine camp, Cres
7. Invest in a quality cooler
Some things are worth splurging on, and a high-quality cooler is one of them. Yeti coolers, for instance, are resistant to bears, and their insulated walls keep the ice from melting. You can also use them to cool the tank while you are camping! Sure, you can also opt for a cheap cooler, but its features will be limited, and it will only keep your food cool for a short time, so you won't be able to count on it. We therefore believe you should think about investing in a better one – those made of steel, glass wool (fiberglass), or even Styrofoam work the best.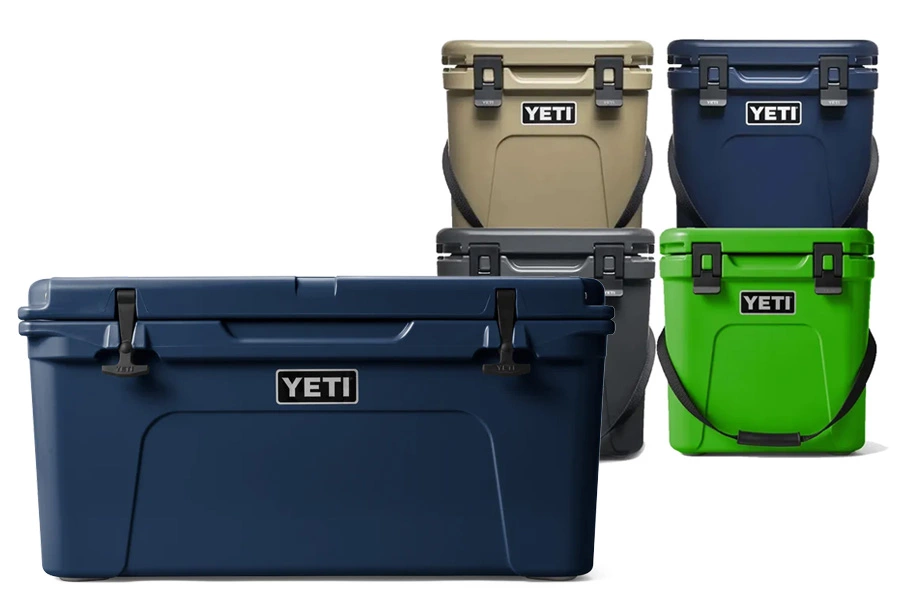 Portable coolers for camping, Kovačine camp, Cres
8. Use ice packs and frozen water bottles
Ice packs are great if you want to keep your food cold and avoid the mess that melting ice cubes can create. Large freezer packs are reusable and made of non-hazardous materials, and they can stay cold for up to 48 hours.
You can also use frozen water bottles – they can stay cold for a long time and will be more efficient in keeping your food chilled. Plus, you'll have plenty of water to drink once the ice in the bottles melts!
9. A separate cooler for drinks
Since people tend to have drinks more often than food in summertime, the cooler holding your drinks will warm up faster because it is opened more frequently. The most experienced campers bring an extra cooler for drinks that can be opened frequently without worrying about spoiling the food.
Here's another tip while we're at it – keep the cooler in the shade during your camping adventure, out of direct sunlight, and away from the grill! 😊
10. Salt and ice
Salt and ice are usually associated with melting icy roads. The melting point of water decreases when salt is added. The temperature of melted water that hardens the ice actually becomes colder than the ice when salt rocks are added, so you can also try adding salt, but be sure not to add too much – just enough to make the chemistry magic work.
Your best bet in this heat is dehydrated and canned food – and the Kovačine campsite! We have everything you need for a cool vacation – the shade provided by olive and pine trees, salt and ice machines at several spots in the campsite, and you can even rent a fridge! And once you've cooled down, you can go back to the "Some like it hot!" mode and enjoy the summer heat and the sounds of crickets.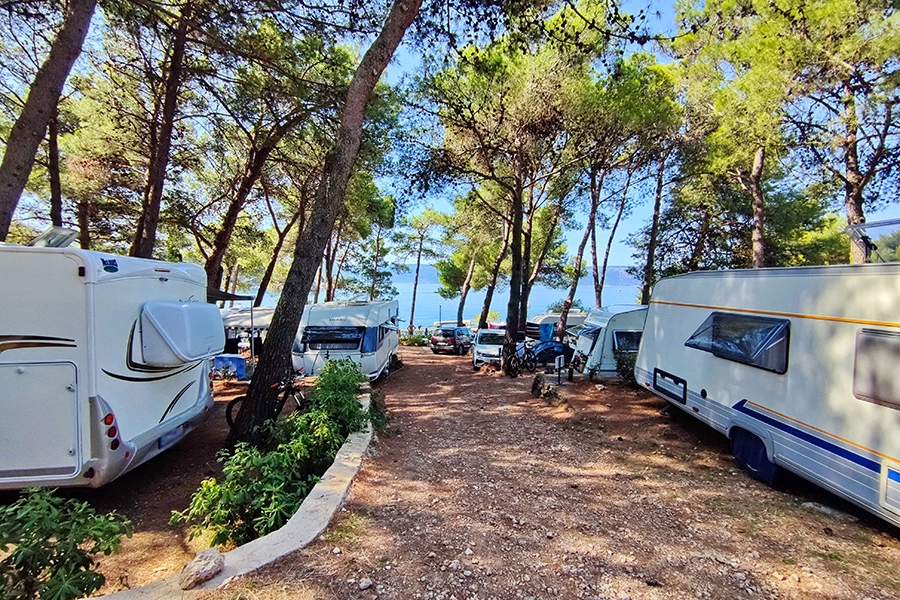 Plots in the shade of pine and olive trees, Kovačine camp, Cres