Pool complex
WE'VE GOT EVERYTHING COVERED.
Enjoy the relaxing moments at the newly-built, modern pool complex in Kovačine Camp. While you soak up the sun on a deck chair, our waiters will gladly serve you refreshing drinks from the pool bar.
Should you tire of the seawater and the unpredictable splashes of the waves, you can enjoy our pool, which is 390 m2 in size and 1.4 metres deep. And for our youngest guests we have also provided a kids' pool 110 m2 in size and 0.5 metres deep. The kids' pool slide will bring hours of fun to our youngest guests and will allow you to rest and relax while still keeping an eye on the kids from the sunbathing area.
Just because you are on holiday doesn't mean you need to abandon your fitness routine. Apart from the pool complex, we also offer a fitness room equipped with everything you would need for exercise and recreation.
one large swimming pool of 390 m2 and 1.4 meters depth,
children's pool of 110 m2 and 0.5 meters depth; both freshwater swimming pools,
sun deck with sun lounges,
"Pool" bar,
gym.
Reviews
About us – from our guests' perspective

Nice quiet and beautiful campsite. Never seen sanitary facility (building 2) so clean on a campsite in the summer period. Good mini supermarket with okay prices. Easy walk to Cres took 20-25 minutes. Fantastic beaches and great snorkelling water. Top class campsite!
Lene Nielsen-Gee
Denmark

All you need to have good holiday in one place. A nice , clean beach. Along the beach there's a promenade, going to center of city Cres. You can rent a motor boat, a kayak, a bicycle. You can learn how to dive. Do some shopping, fruits and vegatables or a croissant in the morning. Definitely recommended!
Radosław Bury
Poland

Incredible place for your rest. Variaty of accomodation options from tent spot 200m from beach till small houses 10m to water. Couple of restaurants, good supermarket, 2 dog friendly beaches, rent of boats, kayaks, sups. Nice promenade along a beach, pine and olive trees are everywhere. We will definitely visit the place again.
Yan Lobaŭ
Belarus
All about Kovačine Camp – in one place.
Download the digital brochure, flick through our offer and let the images convey at least a glimpse of the island atmosphere.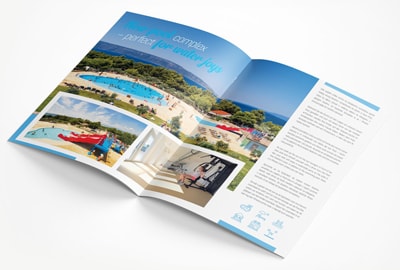 What is new on the island of Cres
and in our offer?
Passion is the fuel that powers us to keep improving. We are listening to and following your wishes and suggestions, in order to make Kovačine Camp your home away from home.
Subscribe to our newsletter to find out the latest news about the island of Cres and all the new and interesting offers we have designed for you.