Kamp Kovačine
Melin I/20
51557 Cres, Croatia
tel: 00 385 51 573 150 (sales)
tel: 00 385 51 573 423 (reception)
e-mail: campkovacine@kovacine.com
PASJAK BORDER CROSSING
From Pasjak Border Crossing in the direction of Opatija to the ferry port Brestova (Istria) – Porozina (island of Cres)
RUPA BORDER CROSSING
From Rupa Border Crossing in the direction of Rijeka and over Krk Bridge to the ferry port Valbiska (island of Krk) – Merag (island of Cres)
Valbiska
Merag
Brestova
Porozina
*05:45
05:00
*06:30
*06:00
**07:15
**06:30
07:30
07:00
09:15
08:30
09:30
09:00
10:45
10:00
11:30
11:00
13:30
12:30
13:30
13:00
15:45
15:00
16:30
16:00
18:15
17:30
18:30
18:00
20:00
19:00
19:30
19:00
22:00
20:30
 
 
***23:59
***22:30
 
 
*NO SERVICE ON SUNDAYS AND HOLIDAYS
**NO SERVICE ON 1 JANUARY, 25 DECEMBER AND 26 DECEMBER
***NO SERVICE ON 24, 25 AND 31 DECEMBER
JOURNEY DURATION: 25 MINUTES
*NO SERVICE ON SUNDAYS AND HOLIDAYS
JOURNEY DURATION: 20 MINUTES
Valbiska
Merag
Brestova
Porozina
05:45
05:00
06:45
06:00
07:15
06:30
08:15
07:30
09:15
08:30
09:45
09:00
10:45
10:00
11:15
10:30
12:15
11:30
12:45
12:00
13:45
13:00
14:15
13:30
15:15
14:30
15:45
15:00
16:45
16:00
17:15
16:30
18:15
17:30
18:45
18:00
19:45
19:00
20:00
19:30
22:00
20:30
21:00
20:30
23:59
22:30
–
*22:00
* SAILS 30.06.
TRAVEL DURATION: 20 MINUTES
Valbiska
Merag
Brestova
Porozina
05:45
05:00
00:30
05:00
07:15
06:30
05:30
06:00
09:15
08:30
06:45
07:30
10:45
10:00
8:15
09:00
12:15
11:30
09:50
10:40
13:45
13:00
11:30
12:15
15:15
14:30
13:00
13:45
16:45
16:00
14:30
15:15
18:15
17:30
16:00
17:00
19:45
19:00
18:00
19:00
21:15
20:30
20:00
20:30
22:30
22:00
21:00
22:00
23:59
23:00
22:30
*23:59
* SAILS UNTIL 27.08.
TRAVEL DURATION: 20 MINUTES
| Valbiska | Merag | Brestova | Porozina |
| --- | --- | --- | --- |
| 05:45 | 05:00 | 06:45 | 06:00 |
| 07:15 | 06:30 | 08:15 | 07:30 |
| 09:15 | 08:30 | 09:45 | 09:00 |
| 10:45 | 10:00 | 11:15 | 10:30 |
| 12:15 | 11:30 | 12:45 | 12:00 |
| 13:45 | 13:00 | 14:15 | 13:30 |
| 15:15 | 14:30 | 15:45 | 15:00 |
| 16:45 | 16:00 | 17:15 | 16:30 |
| 18:15 | 17:30 | 18:45 | 18:00 |
| 19:45 | 19:00 | 20:00 | 19:30 |
| 22:00 | 20:30 | 21:00 | 20:30 |
| 23:59 | 22:30 | – | 22:00 |
Valbiska
Merag
Brestova
Porozina
*05:45
05:00
*06:30
*06:00
**07:15
**06:30
07:30
07:00
09:15
08:30
09:30
09:00
10:45
10:00
11:30
11:00
13:30
12:30
13:30
13:00
15:45
15:00
16:30
16:00
18:15
17:30
18:30
18:00
20:00
19:00
19:30
19:00
22:00
20:30
 
 
***23:59
***22:30
 
 
*NO SERVICE ON SUNDAYS AND HOLIDAYS
**NO SERVICE ON 1 JANUARY, 25 DECEMBER AND 26 DECEMBER
***NO SERVICE ON 24, 25 AND 31 DECEMBER
JOURNEY DURATION: 25 MINUTES
*NO SERVICE ON SUNDAYS AND HOLIDAYS
JOURNEY DURATION: 20 MINUTESA
Valibska – Merag
+ 385 51 840 202
+ 385 51 863 170
Porozina – Brestova
+ 385 51 840 620
+ 385 98 299 134
Jadrolinija Rijeka
+ 385 51 211 444
+ 385 51 666 100
Important telephone numbers
Cres Health Centre
+385 (0)51 571 247
+385 (0)51 572 214
Teaching Institute of Public Health, Cres branch
+385 (0)51 572 218
Dental clinic
+385 (0)51 572 216
Pharmacy
+385 (0)51 571 243
Veterinary clinic
+385(0)51 571 994
Cres Police Station
192
+385 (0)51 571 207
Mali Lošinj Police Station
+385 (0)51 439 410
+385 (0)51 439 439
Cres Fire Station
+3850 51 572 007
Roadside Assistance
+385 1 1987
National Protection and Rescue Directorate
112
Search and Rescue at Sea
195
Cres Tourist Board
+385 (0)51 571 535
Croatia Telephone Directory
11880
11888
Taxi service
+385 (0)98 947 5592
Port authority
+385 (0)51 571 111
INA – petrol station at ACI marina
+385 (0)51 571 334
INA – petrol station at the centre of town of Cres
+385 (0)51 571 250
Post Office
+385 (0)51 571 212
Privredna banka Cres
+385 (0)51 751 318
Erste Bank Cres
+385 (0)51 571 248
Reviews
About us – from our guests' perspective

Nice quiet and beautiful campsite. Never seen sanitary facility (building 2) so clean on a campsite in the summer period. Good mini supermarket with okay prices. Easy walk to Cres took 20-25 minutes. Fantastic beaches and great snorkelling water. Top class campsite!
Lene Nielsen-Gee
Danska

All you need to have good holiday in one place. A nice , clean beach. Along the beach there's a promenade, going to center of city Cres. You can rent a motor boat, a kayak, a bicycle. You can learn how to dive. Do some shopping, fruits and vegatables or a croissant in the morning. Definitely recommended!
Radosław Bury
Poland

Incredible place for your rest. Variaty of accomodation options from tent spot 200m from beach till small houses 10m to water. Couple of restaurants, good supermarket, 2 dog friendly beaches, rent of boats, kayaks, sups. Nice promenade along a beach, pine and olive trees are everywhere. We will definitely visit the place again.
Yan Lobaŭ
Belarus
All about Kovačine Camp – in one place.
Download the digital brochure, flick through our offer and let the images convey at least a glimpse of the island atmosphere.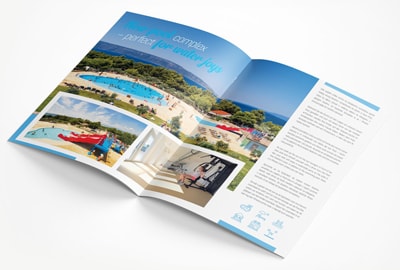 What is new on the island of Cres
and in our offer?
Passion is the fuel that powers us to keep improving. We are listening to and following your wishes and suggestions, in order to make Kovačine Camp your home away from home.
Subscribe to our newsletter to find out the latest news about the island of Cres and all the new and interesting offers we have designed for you.