One of the best decisions you can make in your life is definitely going camping with your children. There is nothing better than getting them away from the TV, noise and Wi-Fi and turning off the autopilot of incessant whining for the tablet. If all of these things are on your list of challenges, this is what you should do before you go camping (and if this is not on your list, here is why it should be!)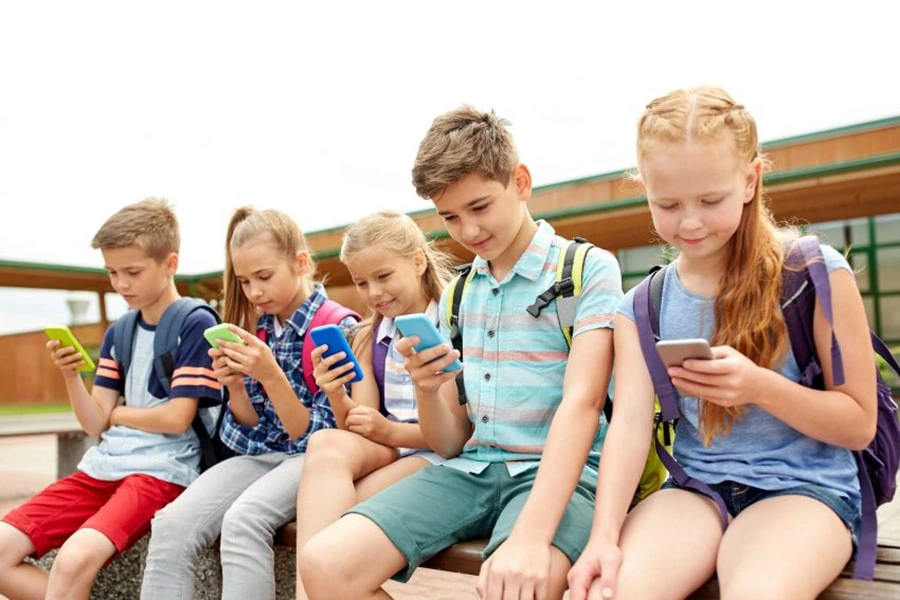 How to get your children to put down their smartphones?
1) Reasons to go camping with your children
Children need nature, and camping is one of the best ways to have your children spend time in nature in unstructured play and learning. When we go camping we replace our tablets with the sea and the TV with making barbecue skewers, all without having to put in a ton of effort: we can relax and connect to our "tribe" without having to worry, while our children meet new friends and explore the magic world of tents, cicadas and plants in the shade of olives and pine trees. With a bit of planning and preparation, everyone is sure to have a good time and come back home with great memories they will never forget. With great freedom provided by the nature and top-level security, our camp is perfectly suited to little campers: we have a great animation team, lovely fun parks, children's toilet facilities and playgrounds.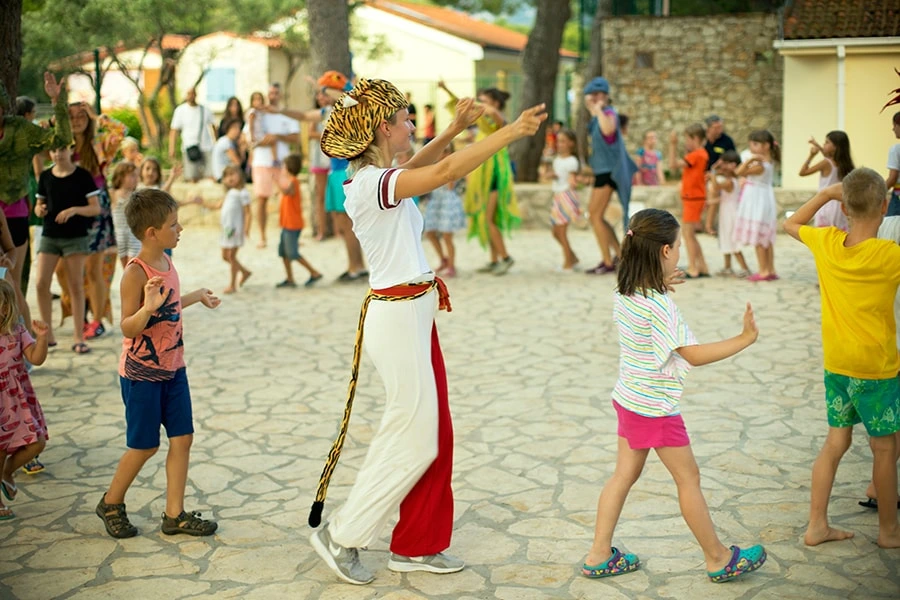 Lighty animation team, Kovačine camp, Cres
2) Choosing where to pitch your tent
First of all, find a shaded spot. This is especially important if you plan to rest in the tent with your children at noon. Secondly, find a quiet spot. This might seem unusual, but sometimes the quietest spot is near the camp entry, because people mostly hang out by the sea. Thirdly, the vicinity of toilet facilities is also important, so you don't have to wander around in the middle of the night. And fourthly, having to carry lots of things to the beach every day (or even several times a day) might mean a spot closer to the sea would be more practical for you.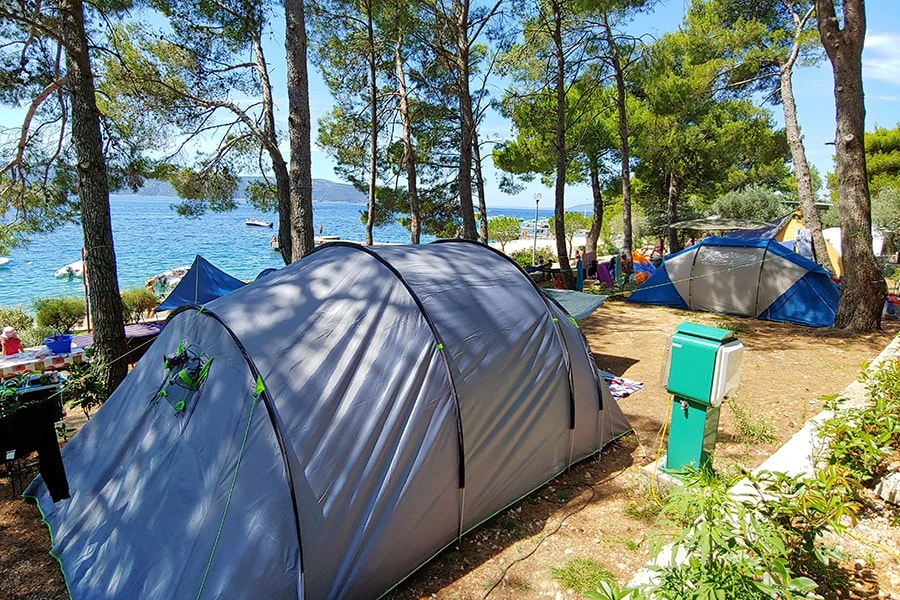 Choosing a spot for your tent, Kovačine camp, Cres
3) What to pack when camping with your children
Keep your packing simple. It might seem scary to leave behind all of the creature comforts of your home, especially if your children are young, but focus on what's important and you'll be surprised to see how many things you can do without. It's a good idea to use a travel packing list which includes all of the essentials. You can download our free camping list here:
Weather appropriate clothing for the whole family (check the weather forecast for Kovačine camp in advance; it's sunny 99% of the time)
Rain boots
Beach toys
Waterproof tent
Camping chairs for the whole family
Refrigerator with food and ice
Lamps
Glow bracelets or necklaces for children to wear at night (so you can keep track of them and for fun!)
Grill cutlery and skewers
Sleeping bags  
Bug spray
SPF
First-aid kit, just in case
One or more hammocks and a hammock rope (an absolute hit!)
Before you hit the road, ask yourself: "What do we really NEED?" In general, you'll need your mobile accommodation, food and weather appropriate clothing. Everything else is for fun and convenience.
When packing your children's clothing, choose darker colours and don't pack new clothes as they'll probably get dirty. Also, make it a rule that shoes are not to be worn in the tent to keep the sand and dirt to a minimum. Don't worry about running out of clean clothes—there are washing machines in each and every toilet facility at the camp!
Hammocks—an absolute hit, Kovačine camp, Cres
4) Meal planning
It's good to have an idea of your meals so that you buy food accordingly, without buying too much. We also recommend that you order food from our great, yet not widely known pizza restaurant so that there's nothing more to worry about other than sitting, cooling down and relaxing after a long drive and pitching the tent.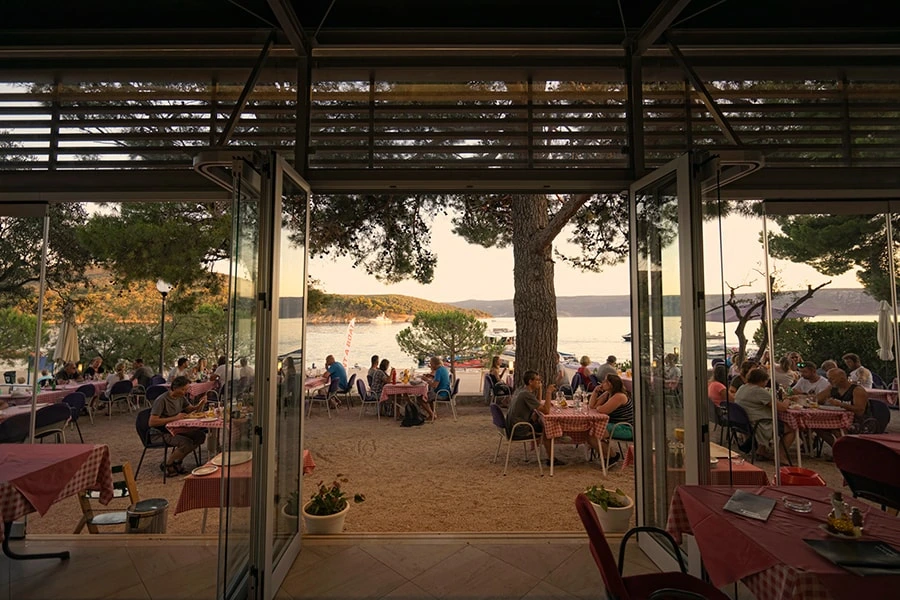 Kovačine pizza restaurant, Cres
5) Make an itinerary
Before you embark on your journey, make an itinerary. Make sure that you know where you are going, what amenities are there, whether there is access to fresh potable water (we have to mention that Kovačine camp has top-quality water from the clean Vrana Lake and there is no need to buy water in plastic bottles), the ferry timetable, the check-in and check-out times.  By making sure that everything is planned, you can limit any unnecessary anxiousness, as well as the possibility of things going wrong. Of course, we will gladly help you with making your plans.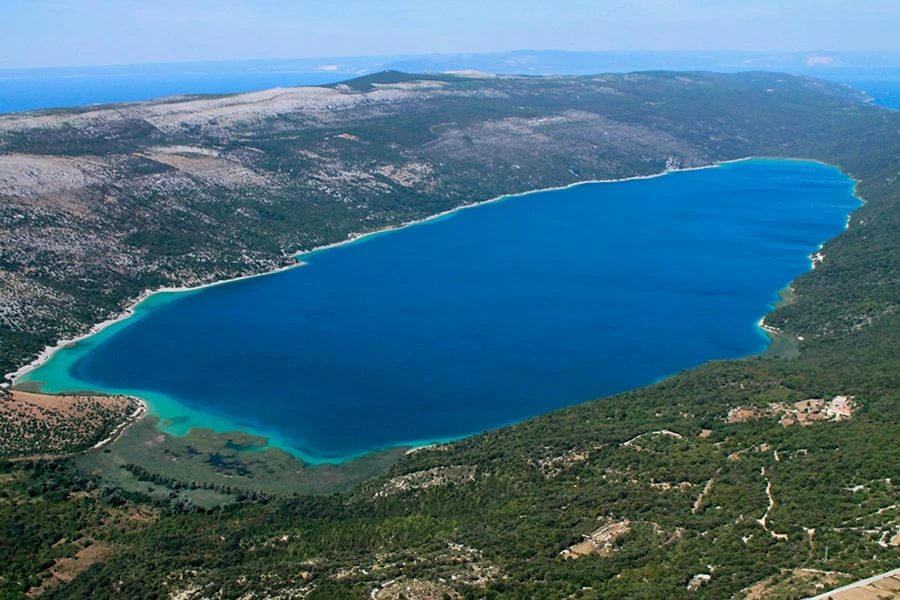 6) Check the weather forecast
Always check the weather forecast so that you're well prepared. If there is a possibility of rain, pack a few extra tarpaulins. If very high temperatures are expected, pitch your tent in deep shade. In case the temperatures drop, pack a few extra blankets and warm clothes. Keep in mind that summer on Cres is usually hot and sunny and even if the weather forecast predicts rain, it usually rains on the tall mountain called Učka, meaning that the rain doesn't reach Cres. Instead, we can see that it is raining miles away from us while we're sunbathing on the beach.
The front desk also regularly checks the weather forecast and puts it on the information desk every morning.
 7) Dress rehearsal before the opening night
If you have never pitched a tent before, it would be wise do try it at home so that you know what goes where. Also make sure to arrive at camp well before dark, because there is nothing worse than trying to pitch a tent in the dark while your children are hungry and upset. Avoid this at any cost.
8) Include your children
Children want to be included and allowed to help. Give them something to do, like finishing nailing the tent pegs, inflating pillows, washing plastic containers, etc. If your children are too young to help, it is a good idea to have some activity ready to occupy them while you are preparing everything: a toy or food to pass the time, anything that will keep them busy.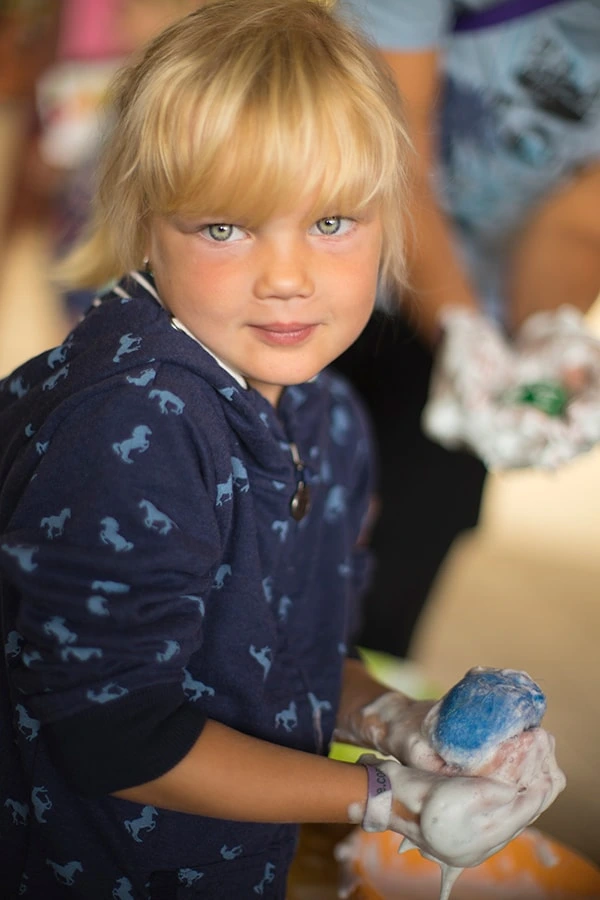 "Ruta" workshop, Cres, wool felting
9) Make it fun!
Glow sticks are always a hit if you can keep your children awake until it is dark enough. Children also enjoy hunts for natural treasures—write down the items they have to find on a piece of paper which they can use as a checklist.
Our other favourite camping toys include the good old butterfly catcher, a magnifying glass, a bucket and a fishing net.
You and your children can study insects, set up a slackline, go explore authentic plants, pick wildflowers, splash in the shallows, make stick figures from twigs and gaze at the stars.  The animation team at Kovačine camp is also here to for even more fun such as dancing, singing, playing games and fun competitions, and you can also visit one of our children's fun parks.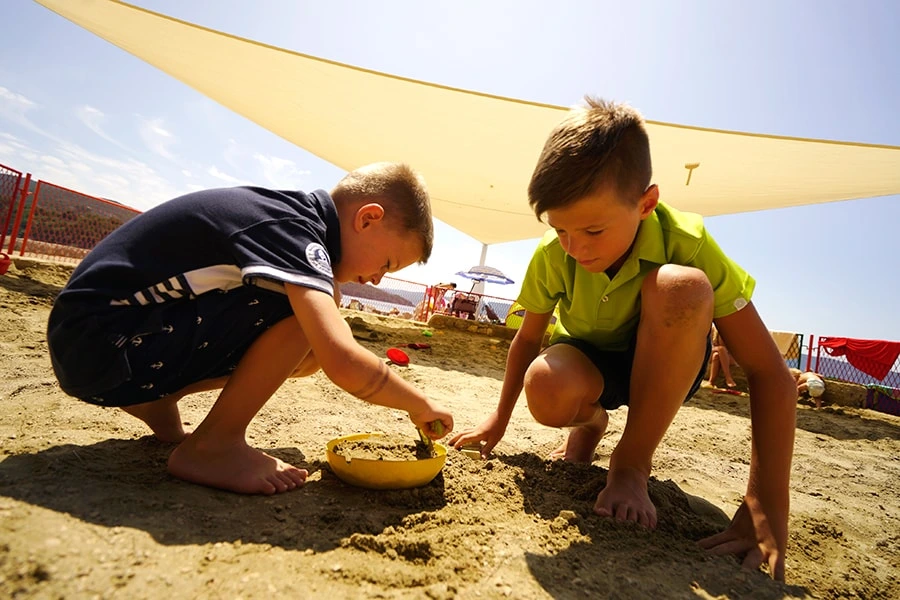 A children's playground, Kovačine camp, Cres
10) Set some rules
Having set up your household, place some boundaries for your children in terms of where they can go and what they are allowed to do. Remind them that the camp has rules of conduct; e.g. you are not allowed to walk on other people's pitches and you should always adhere to the rest hours (from midnight to 6 AM and 2 PM to 5 PM at Kovačine camp).
Make sure you always keep an eye on them.
We hope that this has encouraged you to embark on your camping adventure with your little campers. Remember that the most important thing is to have fun. Turn off all of your devices and allow yourself and your tribe to enjoy the nature, stars, sea, vitamin D, a perfectly-timed wilderness survival course, all of which will turn into memories that will warm your heart for many days ahead.
And if you are also eager, that's all you really need—so don't wait any longer! Because we're waiting for you—and we are ready to help you check the first bold #campingwithkids off your list!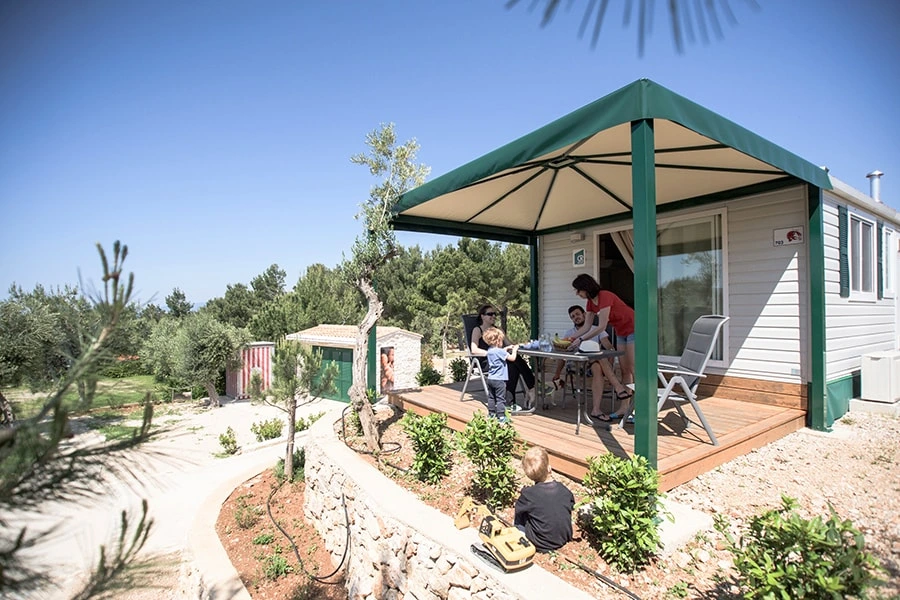 Camping with children, Kovačine camp, Cres