Let's head to the sea!
Who doesn't dream of all the joys of a summer holiday? Shifting up into sixth gear on an empty expressway in an air-conditioned car, enjoying the sounds of your favourite tunes, a few automatic Garmin instructions here and there, and you're at your destination! All that's left to do is reach your pitch and set up a tent that almost sets itself up, or choose a fancy camping caravan for yourself or a boutique glam accommodation with lactose- and gluten-free breakfast, which almost magically appears in front of your door; as a cherry on top, you can also enjoy our new yoga guru classes surrounded by luxuriant olive trees and local sheep.
However, this wasn't always the case.
Yugo 45, bologna sandwiches, and pocket money
Some forty years ago, working-class families armed with company pocket money intended exclusively for compulsory holidays always miraculously managed to load their cars with things from top to bottom. Together, they would manage to close the doors, and would then set off on the long-awaited summer holiday, driving at a slow pace on old winding roads with open windows, and stopping every now and then so the old Yugo 45 wouldn't overheat (and to take a break and enjoy mum's bologna sandwiches). After listening to their Walkman tape for the tenth time, they would reach their destination like heroes, and celebrate their arrival with the beer bottle opening sound.
At that time, the Kovačine campsite looked completely different.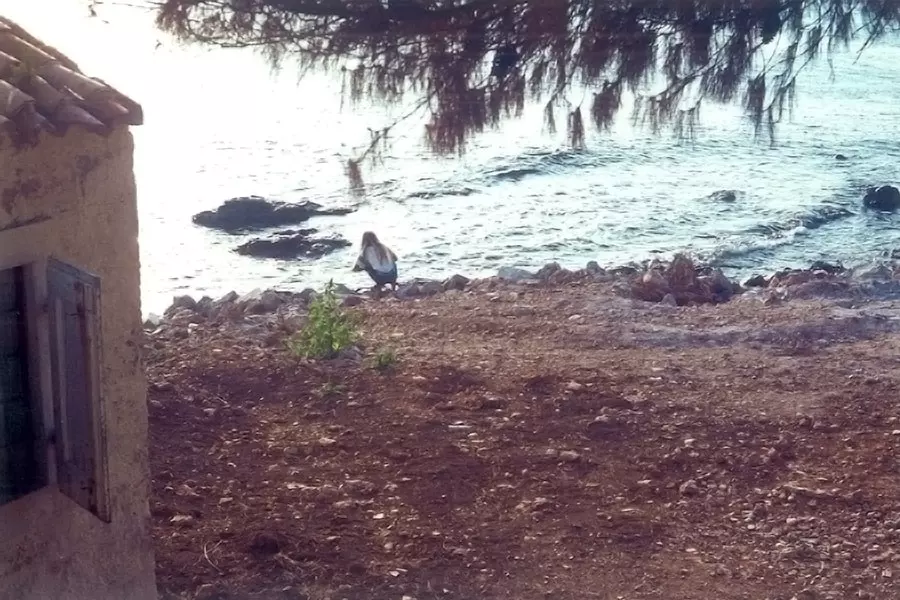 And there was light in the Kovačine campsite!
Back in 1976, they would be greeted by the current director, who back then had long hair. looked dashing and was a bass player in a local band while also working at the reception of the Kovačine campsite, thus becoming one of the first two eyewitnesses of working-class visitors on a compulsory holiday.
At the time, Kovačine campsite's tiny reception was located on the road behind the current pizzeria, and the campsite stretched from there to what is now the campsite market. The Kovačine campsite could accommodate a maximum of 200 nature lovers, offering them the opportunity to enjoy the view of local goats casually grazing the terrain of what are today modern pitches, and buy fresh sardines and goat milk from local women in their sixties. At night, our director Stevo and his colleague Ante would carefully light a candle, deal with the books, and sort handwritten application forms. Before heading home, they would wash their hands as they would always get dirty from carbon copy paper, and sometimes also from fresh fish caught in our little realm of lovely stories. Each of them would secretly visit the small campsite shop to get a bite to eat.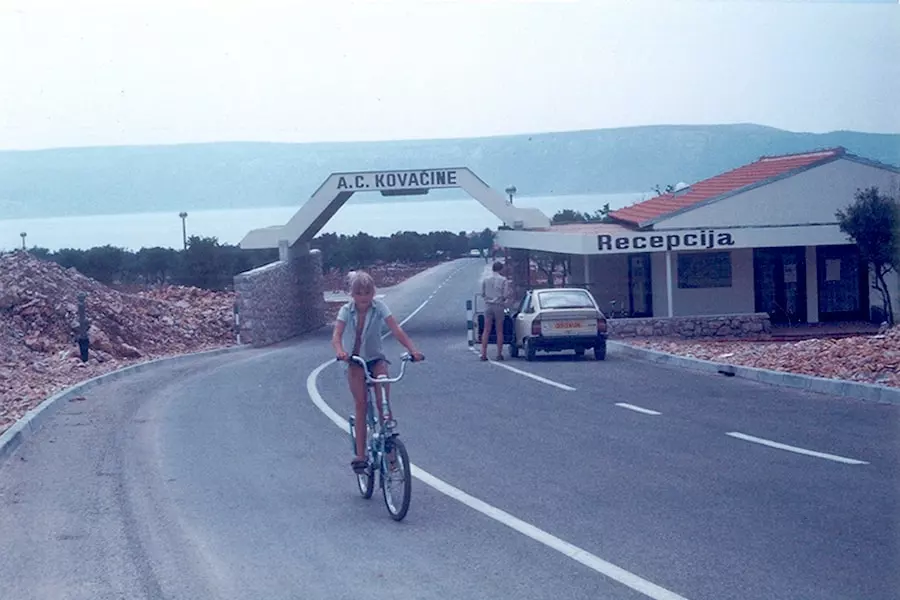 Karaula then and now.
Forty years ago, Karaula, now the campsite's most popular beach, was frequented by Yugoslav Army soldiers, who used to rest and stretch their legs there. How lucky were they? They used to sleep in a perfect location, now the area of the Tamaris rooms, next to the well-stocked Kovačine campsite market.
Right where soldier Slavko once wrote a romantic letter to his girlfriend with a fountain pen in the sunshine, kids of all ages now play on a big playground and enjoy the company of the always cheerful animation team of the Kovačine campsite, while parents dive their forks into delicious custard slices of our coffee shop Lanterna. We're sure soldier Slavko never would have imagined this!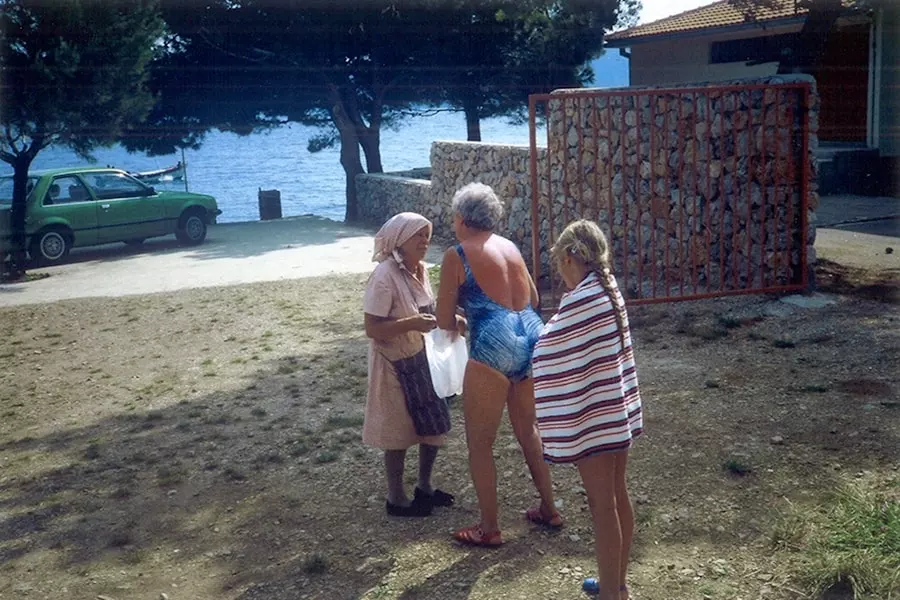 Among the first campsites in Yugoslavia
Love of outdoor holidays existed even before Thomas Holding, the future father of modern camping, who travelled two thousand kilometres across the American prairies in a wagon train and was quite impressed by this cheap trip with a company of 300 colonists.
The first naturist campsite appeared in 1934 on the island of Rab, and 20 years later, Yugoslavia had as many as 18 campsites, half of them in Croatia. That same year, the campsites had 186,000 overnight stays. Most of the guests were local tourists, and the first guests of the campsites were Germans and Czechs. During the golden eighties, accommodation capacities intended for workers reached their peak and exceeded eighty thousand beds.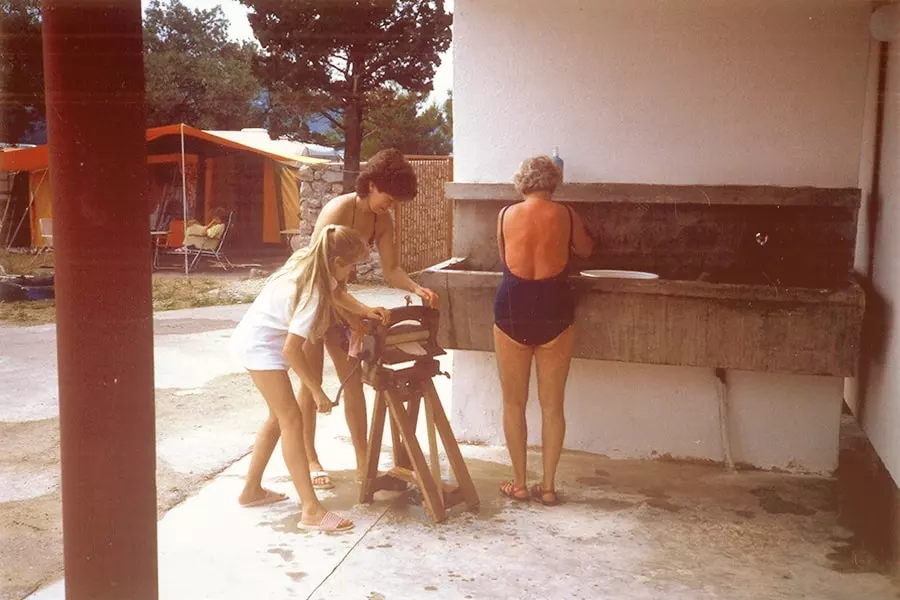 Back to the future: the Kovačine campsite in its full glory
Fasten your seatbelts, and prepare for take-off! The first and quite small steps of our campsite were followed by a stable and unstoppable growth. We replaced cargo paper with chips, and candles with eco-friendly lighting. Every year, we increased our capacities, and we also arranged and delimited our pitches by fragrant native plants, and provided them with water and electricity. The nine sanitary facilities are embedded in a colourful floral world that stretches up to the sky like a fairy tale. The e-charging station has been joined by smart mobile homes, and special attention is paid to children and pets, who have their own sanitary facilities and playgrounds at the campsite complex. Today, about 150 employees make sure our guests have the best holiday experience. We offer includes wellness services, massages, a swimming pool, pedicures, manicures, as well as shops and restaurants just a stone's throw away. In providing our services, we follow the latest technology trends related to increasingly sophisticated vehicles, meet the tourist demand, and, of course, care for the environment.
Love is mutual: nature and the Kovačine campsite
As you can see, a lot has changed, but we try and keep nature as it once was! It is estimated that one-fifth of international tourist trips are inspired by a strong desire to get familiar with nature, and most of such trips are a part of the camping tourism sector. The connection between camping and nature is the focus here because it is not possible to camp and not love nature.
In that sense, our love is great and strong: we boast the Blue Flag, Green Key, Ecocamping, ZelEn, and ISO environmental certificates, and a few years ago, we also received the award for the best eco-campsite in Croatia.
The best time to camp is now
Coming out of your polyester cocoon at sunrise while surrounded by the beauty and the sounds of pristine greenery, you realize that there is nothing quite like camping, as it evokes romantic notions of escaping from the hustle and bustle and returning to nature.
Showering under waterfalls, listening to stories by the fire, trying to avoid flies or mosquitoes, having an angry farmer chase you at dawn… Your camping experience is definitely something you won't forget for a long time!
With more and more holiday options to choose from and the opportunity to travel to distant countries from our dreams, there is no better refuge or time to think about the importance of health, inner peace, and our relationship with nature than now.
The trend of outdoor holidays will continue to grow, and we have come to the conclusion that there are two types of campers: those who camped at the Kovačine campsite and those who wish they had!
And the rest is history.