It doesn't matter how you like to camp – in a tent, in a trailer, or in one of the Tamaris rooms – these are just places to hang up your sunbathing gear and bundle up for a night of sleep. Daytime is when the real fun starts! Kovačine Camp offers you countless fun activities! You can even adapt some of the new, exhilarating experiences to your family's interests.
To avoid family feuds, we bring you a list of amazing activities – some of them for active moments, and some for the days you're feeling extra lazy.
1. Standup paddleboarding (SUP)
Put on your bathing suit and have some fun in the sea! Choose your favourite SUP board in our Cres Outdoor Center, climb it and feel the spacious blue wonderland under your feet, while fully feeling like you're walking on water. You won't even be aware that you are exercising at the same time, keeping yourself healthy and happy!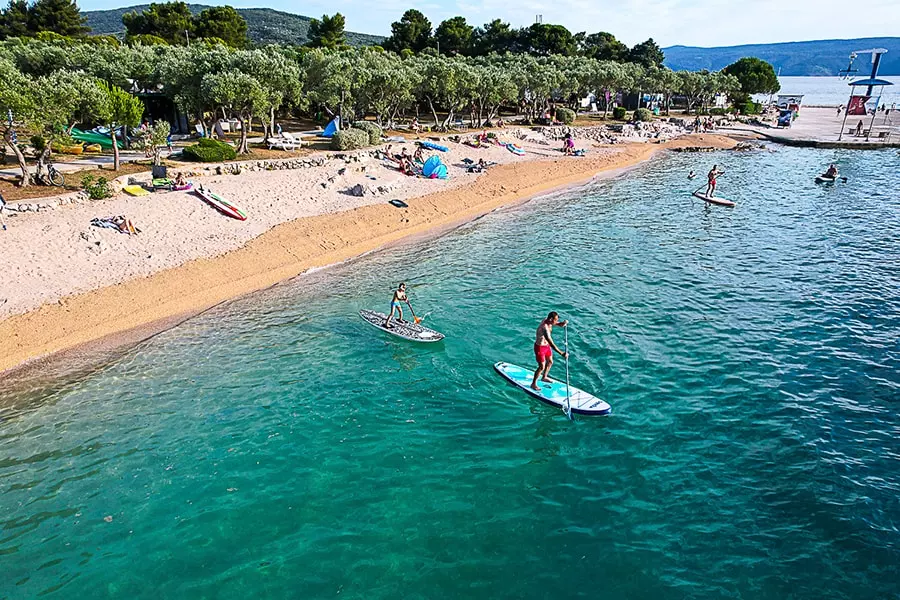 SUP as walking on water, Kovačine Camp, Cres
2. Become the new winnetou
Thanks to the indented coast of this island, with countless bays offering a natural shelter from the wind and waves, the sea around Cres is just perfect for a kayaking adventure. Rowing along the rocks, you will feel like the new Winnetou, surrounded by gorgeous landscapes of the sea and the hills, home to various birds and a few small churches. Explore the little coves and tiny beaches while your loyal kayak waits for you by the beach!
If you don't have your own ride fit for Winnetou, you can rent one in our Cres Outdoor Center.
3. A day on a speedboat
Indulge in a private speedboat tour and spend the entire day visiting charming spots on Cres. The undisturbed beauty of the Blue Cave is well-known, and now you can see for yourself how the sunlight magically turns aquamarine, making everything under the sea and inside the cave seem silvery blue! You are sure to love every sight you pass by while soaking in the sunshine on the boat!
Breathe in all of the beauty of the world and enjoy the gentle touch of the sea breeze on your salt-kissed smiling face.
4. Diving
Thanks to their natural properties, islands are always suitable for diving. So, take a deep breath, put on your goggles, snorkel and fins, and immerse yourself in the underwater world! Discover all of the beauty of the sea around Cres. Look for tiny hidden coves, discover the unique flora and fauna, and relax in the sea clear enough to see every little bit of the underwater scenery. Do some algae fortune-telling, peacefully observe the different species of fish, kelp and other miracles of nature. The camp offers diving courses for beginners and professionals, and the wide variety of services offered includes diving with your own or rented equipment, in the company of an experienced diving guide so that you don't miss any of the underwater attractions, as well as diving from the beach, off a boat, or at night. Swimming in the sea is very interesting, as every metre you cross brings you to new depths, rocks, fish, shellfish, and you can observe everything as if you were in a 4D cinema.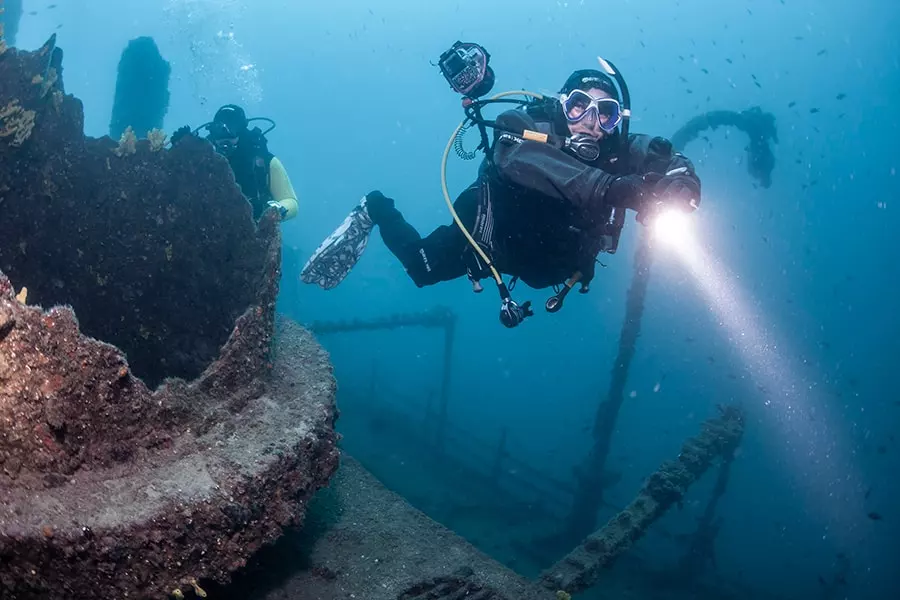 The best diving locations, Kovačine Camp, Cres
5. Parasailing
Watching from land, parasailing might seem like an adrenaline-filled adventure, but really it's the opposite – panoramic views of the beaches, coves, the sea and landscapes will give you the relaxing sensation of floating in the air. Once you take to the air, the time stops and you find yourself in a world ruled by the wind and the sea.
In our Water Sports Cres centre, you will be put into a vest, fitted with a harness and given precise instructions regarding the process, and then you will take to the skies, away from everyone and everything, and enjoy your gravity-free moments.
This unique bird's eye view experience will offer you views of Kovačine Camp, Valun, and even parts of Istria, and you will never forget it, trust us.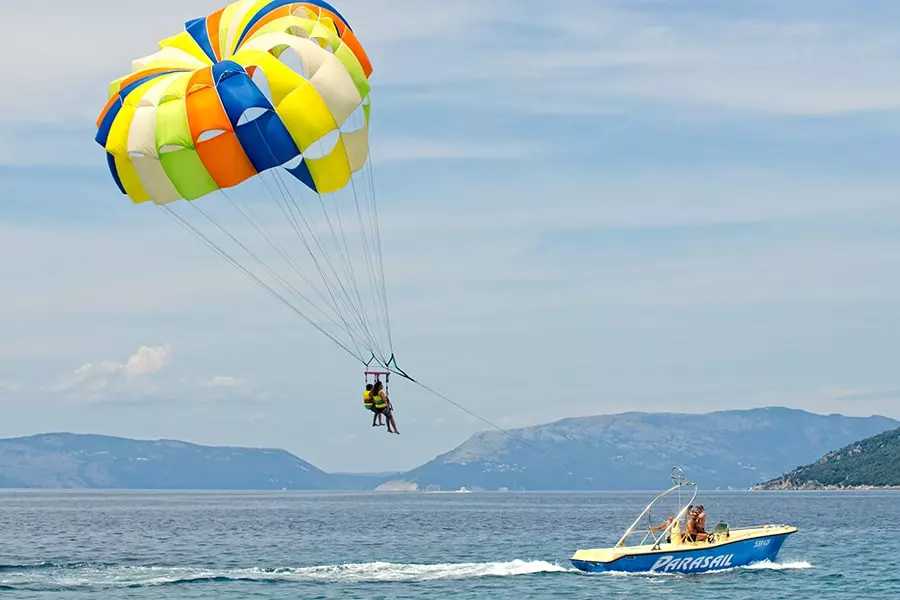 Parasailing, water sports, Kovačine Camp, Cres
6. The four horsemen of water sports: twister, aqua rocket, slider and the tube
Add a touch of adrenaline to your holiday! Try one of our innovative toys. Lean back comfortably on the high-backed seat of the Twister, directly overlooking the sea, as it twists and turns, and takes you to new levels of fun. Take a ride on the Aqua Rocket or choose the Slider for a wild, but completely safe, ride. Defy the waves on the Tube – on your back for a relaxing ride, and on your stomach if you're into some adrenaline! Our Water Sports centre is waiting for you!
7. Floating water park
Is it even a summer holiday if there's no crazy water antics? Our floating water park guarantees amazing fun, respecting strict safety requirements! There is no age limit, and it is made up of numerous elements linked together – a slide, a catapult and the iceberg are only some of the obstacles for kids and adults to have the time of their lives! Visit us for an exhilarating adventure! Hurry up, your friends are waiting!
8. Entertainment
All you need for a fun time is already here! Throughout the height of the summer season, Kovačine Camp becomes a stage for various sports, recreation and entertainment activities. Entertainment activities for kids and adults are provided by amazing coaches, singers, dancers and entertainers in licensed costumes with themed props. Our entertainment programmes are varied, verified and professionally organised, all with the aim of providing you the best quality fun that you will never forget. Water aerobics in a turquoise pool, morning gymnastics with a view of the sea, as well as dancing, playing games, tournaments, competitions, evening shows… For a more peaceful time with your loved ones, we have provided movie nights under the stars. Mom and dad won't be bored either! 😉
We take great pride in our entertainment team – visit us and see why!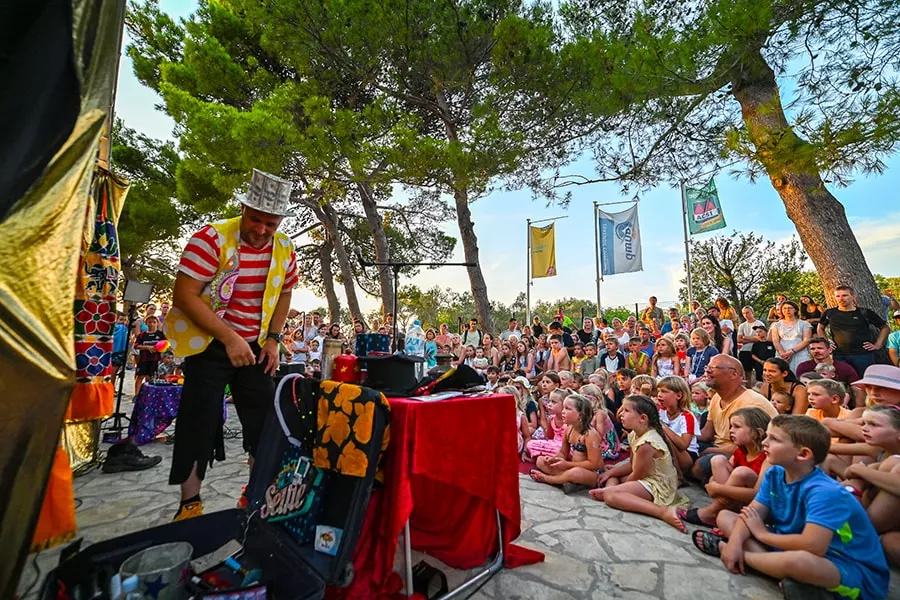 Entertainment, workshops, shows in Kovačine Camp, Cres
9. Fish and meat grill parties
On Tuesdays and Thursdays, the favourite swimming spot in the camp takes on a new role and hosts a celebration dedicated to fishermen, their catch, and fans of grilled delicacies.
The numerous guests of our camp are drawn by the intoxicating aroma of fresh fish and other grilled food, all part of the rich culinary offer in Cres, fun times set to acoustic tunes played by two virtuosos, and dancing the summer away.
Fish and meat grill parties are a chance for our guests to get to know the traditional art of fishing and preparing food, as well as to enjoy the special entertainment programme. After all, it is a well-known fact that a fish swims three times: in the sea, in olive oil, and in wine. So have a glass of wine and sing your heart out all the while enjoying the authentic blessings from the sea, and keep partying into the warm Mediterranean night under the starry skies.
10. Beach volleyball
The camp's beach has an amazing court for beach volleyball – one of the most popular summer sports. Fans of active holidays are sure to find their spot under the sun to show off their skills on the sand, spiking the ball surrounded by breath-taking nature, crystal-clear sea, and the sounds of summer.
All you need are your swimming suit, a ball, of course, a net and three other players. A cheering crowd will appear in no time. Make sure to see this competition as a fun summer recreation that you have spent a year waiting for – let the best prize be a jump into the sea after the match ends.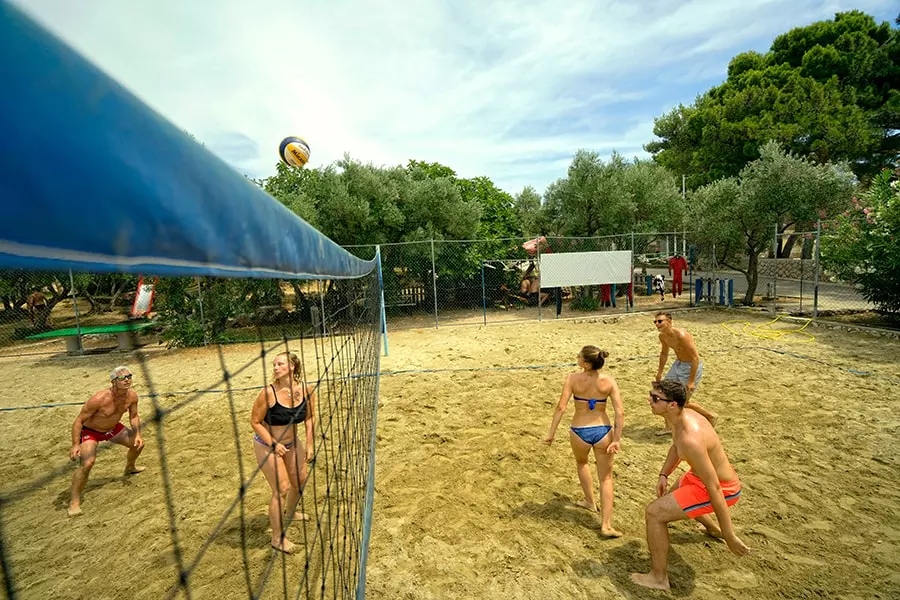 Beach volleyball in Kovačine Camp, Cres
11. Bocce
Try your hand at the popular old game, where you need to throw your ball (boća) so that it falls closer to the tiny main ball (bulin) than your opponent's ball, as well as to hit your opponent's ball away from the bulin. Bocce ball was already popular in coastal Croatia by the Middle Ages, and it remained popular throughout the coast, where it is also called balote. Become a part of this glorious tradition and win a gold medal at precisely shooting away your opponent's boće!
12. Pool
Summer days are perfect for relaxing by a pool with a view of the sea and olive groves. If you prefer family fun by the pool, or you've had enough of salt water, waves and crowds, visit our newest spot – a swimming pool with a slide, and enjoy yourself however you like. As you lie on a deck chair soaking up the sun, snap your fingers and call on your genie – a waiter from our Pool Bar, who will gladly get you your favourite icy cocktail!
After the cocktail, the pool's elegant cascading waterfall will seem even more exciting!
We haven't forgotten our youngest guests – they will have fun for hours in their own pool with a slide. Once your kiddos jump in, they won't stop smiling, and you will be able to enjoy the sun, refreshing drinks, light snacks on the pool bar terrace, or even a soak in the heated freshwater pool.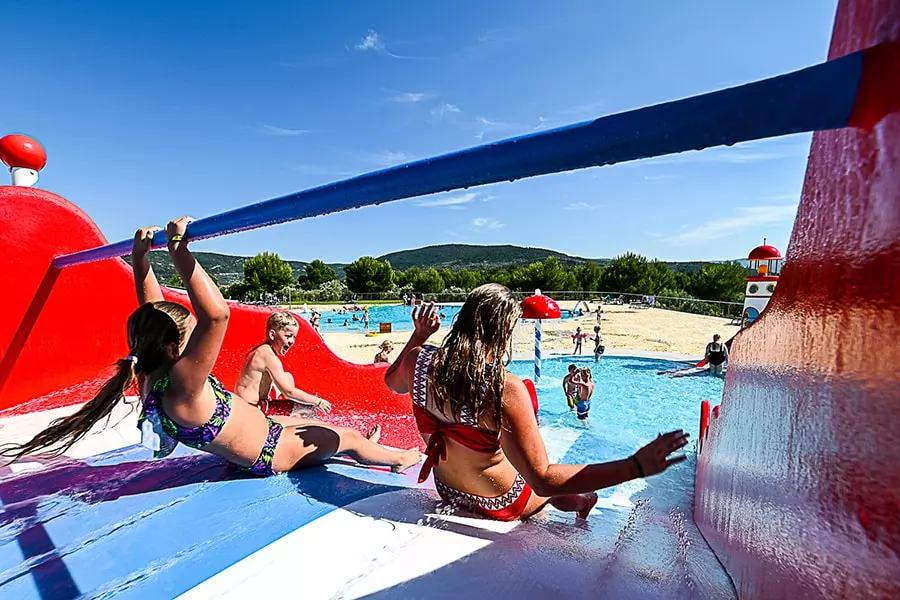 Pool with a slide for children, pool complex, Kovačine Camp, Cres
13. The bounty pirate ship
Let your child take on the role of a fearless pirate on the unique jungle gym in the shape of a ship as you relax on a bench in the shade of the pine trees. Once they've had enough of the pirate ship, they can play on the seesaws in the shape of horses and waves, enjoy interactive games with mirrors and different shapes, other jungle gyms, swings, wooden houses connected with bridges, with enough space for everyday games of catch, hide-and-seek, …
14. Workshops
Surprise yourself! Our camp is always frequented by individuals and organisations ready to teach our guests numerous new skills – visit the free workshop teaching you to create felted flowers every Saturday, learn how to make your own unique purse out of a T-shirt, use natural materials to build a house that can withstand every storm, make your own soap or chocolate spread from 100% natural raw materials, learn everything about our protected species, pet some birds, become a scientist for a day and see how rain is made, and how a weather station functions… We have something new for you every year!
15. Do your own thing!
If nothing you've read so far has tickled your fancy, and despite being X years old, you are still a kid at heart (just like we are), we have a few more aces up our sleeve before you go to bed: if you and your dog are inseparable, you can have some fun at the dog park; if you're feeling extra energised, don't sign up your neighbour (but yourself) 😊 for a cycling trip with our team, or spend the afternoon exploring olive groves and hiding from wild boars. If you're in the mood for some magic and laughter, spend your Saturday at our school of tricks led by Martin, a magician clown. If you won't give up on exercise even on your holiday, and the peaceful sea starts stirring up, visit our indoor and outdoor fitness facilities!
Make sure not to get sunburnt and not to get a mouthful of sea water – and at the end of your adrenaline-filled day have a glass of the local wine, and put a big check mark on returning to Kovačine Camp in your heart! Nowhere in the world will you find a better place to combine a thrilling "on" with a beautiful "off"!
Off we go!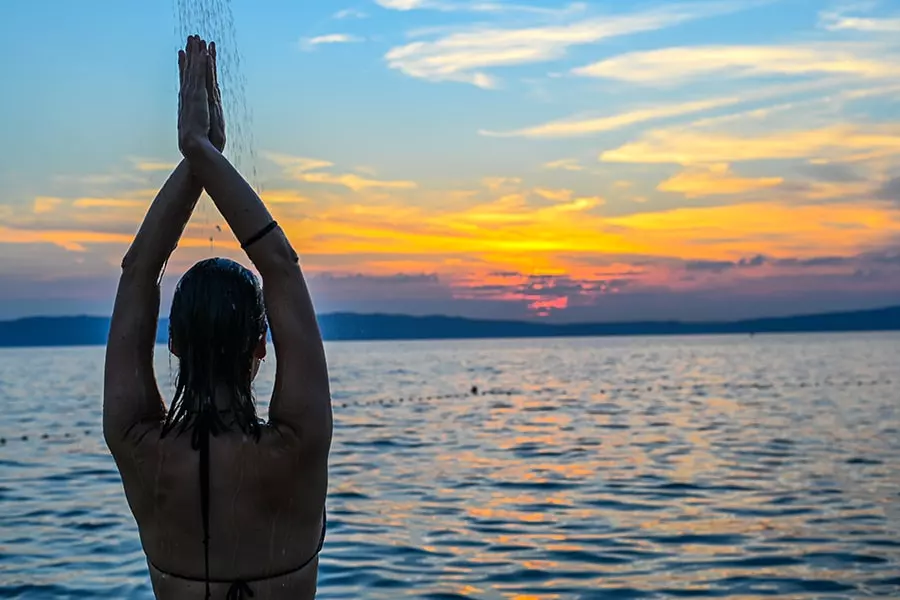 Kovačine Camp, Cress, Off we go!